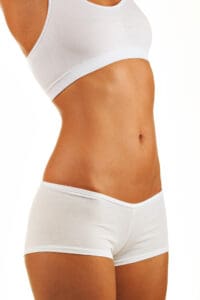 Undesirable fatty pockets in specific areas can affect the body contours leading to an unattractive body shape.
FDA-cleared CoolSculpting is a body contouring procedure which can help remove fat deposits in a nonsurgical manner. CoolSculpting involves freezing off fat cells to restore a slimmer contour in the treated sites.
CoolSculpting can address fat deposits in areas such as the thighs, abdomen, hips, love handles, legs, breasts, and upper arms. Smaller areas can also undergo treatment with innovative CoolSculpting devices such as CoolMini.
Muse Plastic Surgery, led by double board certified plastic surgeon Dr. Wright Jones provides CoolSculpting to patients in Atlanta, Buckhead, Stockbridge, Marietta, GA, and surrounding communities.
Natural Looking Body Contours
Unlike surgery, CoolSculpting offers conservative and natural looking aesthetic outcomes. The procedure is entirely noninvasive. The fat cells break down completely over a few months which enable the outcomes to appear more natural. It will not be apparent to others that the patient has undergone a procedure for fat loss.
A unique cooling process is the basis of the cutting-edge CoolSculpting technique. It is unlike many other body contouring procedures that involve heat, extraction, or destruction of fat cells. Plastic surgeon to the stars Dr. Wright Jones provides CoolSculpting to the right candidates for best outcomes.
Minimal Downtime
A key benefit of CoolSculpting is that it does not involve any significant downtime or discomfort. This procedure is ideal for busy moms and working professionals as they can quickly resume their routine activities after a CoolSculpting session.
At times, patients even choose to undergo CoolSculpting treatment sessions during their lunch hour and return to work afterwards as usual.
How does CoolSculpting Work?
Harvard scientists developed the revolutionary cryolipolysis technique, which is the foundation of the CoolSculpting procedure. The CoolSculpting device delivers cold energy to destruct the targeted fat cells. These dead fat cells slowly exit the body through its natural metabolic processes.
The figure appears slimmer and more sculpted as the dead fat cells exit the body. Patients usually require a few treatment sessions lasting for around 40 minutes each. The CoolSculpting procedure does not involve any incisions, cuts, medications, needles, or anesthesia.
CoolSculpting aims to remove unwanted fat pockets without causing damage to the healthy surrounding tissue. The treatment can remove almost 20 percent of the fat cells in the treated area. Upon removal, the fat cells cannot re-grow and are annihilated permanently.
But patients should understand that CoolSculpting is not a weight-loss procedure. It is meant to shrink or sculpt fat tissue to enhance body contours. However, if the patient gains weight, the remaining fat cells in the body will grow in size compromising the outcomes of the treatment.
Visibility of Outcomes
The time taken to complete one CoolSculpting session is up to 40 minutes. Some patients can achieve their desired outcomes in just a single treatment session while others may need more than one session. The patient will experience noticeable results after the first session, and the outcomes will continue to enhance with additional sessions.
CoolSculpting offers a marked reduction in fat pockets in the treated sites. The complete effects of the treatment will manifest over several months as the dead fat cells will be eliminated by the body through natural processes. The results of the procedure will sustain as long as the patient follows a balanced diet and regular exercise regimen.
Innovations in CoolSculpting
CoolSculpting now offers patients a new 3-in-1 CoolAdvantage applicator. This can treat a more substantial surface area at one time and deliver colder energy for quick action. This innovation has reduced the average CoolSculpting treatment session time by almost half.
Celebrity plastic surgeon Dr. Wright Jones receives patients from Atlanta, Buckhead, Stockbridge, Marietta, GA, and nearby areas for CoolSculpting.
See all plastic surgery procedures that Cosmetic Plastic Surgeon Dr. Wright Jones performs of the face, nose, body, and breast in and around Atlanta, Buckhead, Stockbridge, Marietta, GA and surrounding areas.