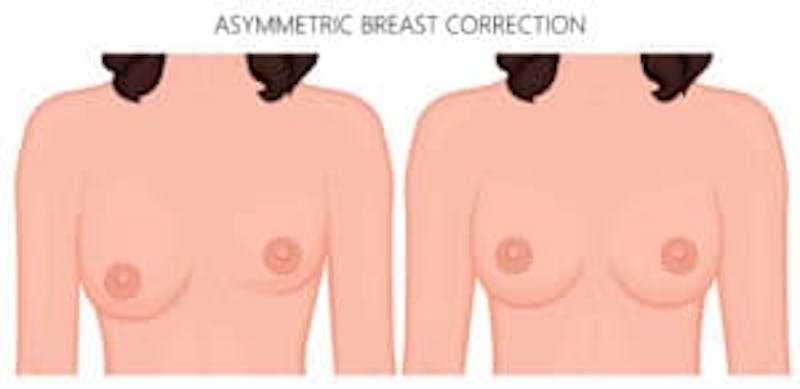 Breast Augmentation
The most common approach for achieving breast symmetry is a breast augmentation. With breast implants, your surgeon can ensure that the both the size and shape of the breasts correspond. If symmetry is your goal rather than enlarging the breasts, modest implants can be used to avoid going too big. You may also decide to enhance the size since you are already undergoing surgery anyway.
Breast Reduction
Perhaps you would prefer that your breasts be smaller (even slightly) rather than going larger to attain symmetry. This can be achieved with a breast reduction, a surgery that removes unwanted breast tissue. Your surgeon can remove just enough volume that the breasts are in alignment — or reduce both breasts to your ideal (and matching) size.
Breast Lift
If the main source of your breast asymmetry is that one breast hangs lower than the other, then a breast lift can achieve the best outcome. This surgery involves removing excess skin from the breasts and elevating the breasts to a more youthful position. While in some cases it may make sense to alter just one breast with an augmentation or reduction for symmetry purposes, with breast lift it is generally preferable to lift both for uniform rejuvenation.
Nipple Reduction
Your breasts may match in all respects aside from the areolas (the colored circles surrounding the nipples). Nipple reduction surgery is an effective procedure for removing surplus tissue and having your nipples in harmony. If one nipple is inverted, surgery can also help to ensure that both nipples project outward. However, if your nipples hang in different positions, then a breast lift is most likely your optimal solution.
Make an Appointment
Breast surgeon extraordinaire Dr. Lovell is proud to offer excellent skills, compassionate care and a feminine touch to her patients dealing with breast asymmetry. To discuss your aesthetic concerns, please call (404) 994-5937 to schedule a consultation at Muse Plastic Surgery.