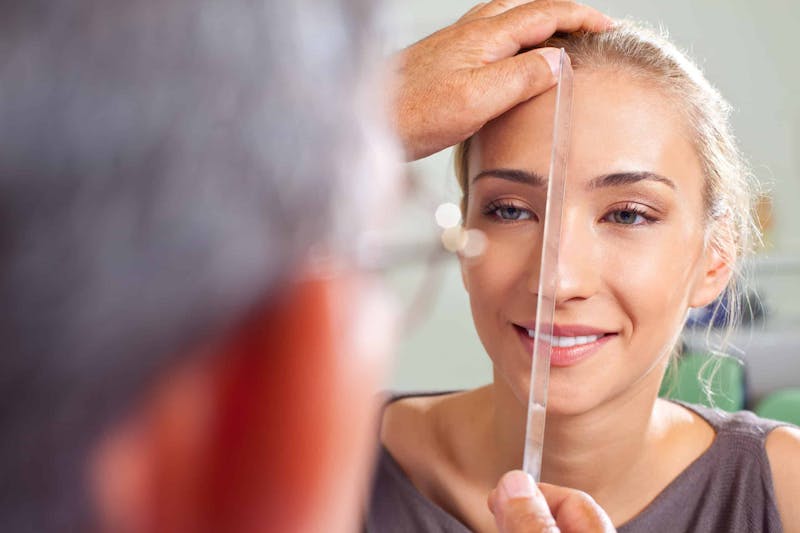 While rhinoplasty is primarily a cosmetic surgery procedure, it can treat functional and structural anomalies of the nose such as a deviated septum. A skilled nose surgeon with an in-depth understanding of the nasal anatomy can perform this corrective procedure in a safe and effective manner.
Dr. Wright Jones is a well-known, double board certified plastic surgeon providing rhinoplasty for both aesthetic and structural improvements. Dr. Jones receives patients from Atlanta, Buckhead, Stockbridge, Marietta, GA, and surrounding locations.
What is a Deviated Septum?
Nasal septum is the bone and cartilage that bifurcates the nasal cavity of the nose in half. A deviated septum refers to a condition of the nose in which the nasal septum becomes significant off center, or has a crooked shape, which causes breathing obstruction.
It is estimated that as many as 80 percent of the people will have some kind of misalignment or imbalance to their nasal septum. However, only severe cases of imbalance will cause significant breathing problems and require surgery. Rhinoplasty is an effective plastic surgery that can be used to correct this condition.
Surgical Procedure
During the surgery involving correction of a deviated septum, the surgeon will usually perform a closed rhinoplasty, which involves working from inside of the nose. A small incision will be placed in the septum, through which the cosmetic surgeon will remove the excess cartilage or bone in order to create an even breathing space for the nostrils. This procedure is generally performed as an outpatient surgery using local or general anesthesia as per the specifics of a case.
The entire procedure can be completed in less than two hours, but this will depend on the additional aesthetic rhinoplasty work to be performed. The advantage of combining correction of the deviated septum with aesthetic rhinoplasty is that the patient has to undergo a single surgery and the anesthesia will have to be performed only once. The procedure becomes more cost-effective and recovery will be similar to a case where only one procedure is performed. Dr. Jones provides this surgery to patients in Atlanta, Buckhead, Stockbridge, Marietta, GA, and nearby areas.
Recovery
After the procedure, the surgeon may place internal splints or soft packing material in the nose to provide stability to the septum while it heals. If only the correction of deviated septum is involved, the swelling and bruising will be very minor.
However, if addition aesthetic or structural improvements are performed, the recovery may take about a week to 10 days. Swelling will subside gradually over a few weeks in such case. Initial mild pain can be addressed with pain medications as prescribed by the surgeon. Most patients can return to work or resume their regular activities after a week.
Insurance Coverage
Correction of the deviated septum is a medically necessary procedure because it causes breathing difficulty. Therefore, most patients may be able to receive coverage under their health plan for this procedure. If it is combined with rhinoplasty, the reason for such combination can be explained that it is done to avoid two separate surgeries.
See all plastic surgery procedures that Cosmetic Surgeon Dr. Wright Jones performs of the face, nose, body, and breast in and around Atlanta, Buckhead, Stockbridge, Marietta, GA and surrounding areas.