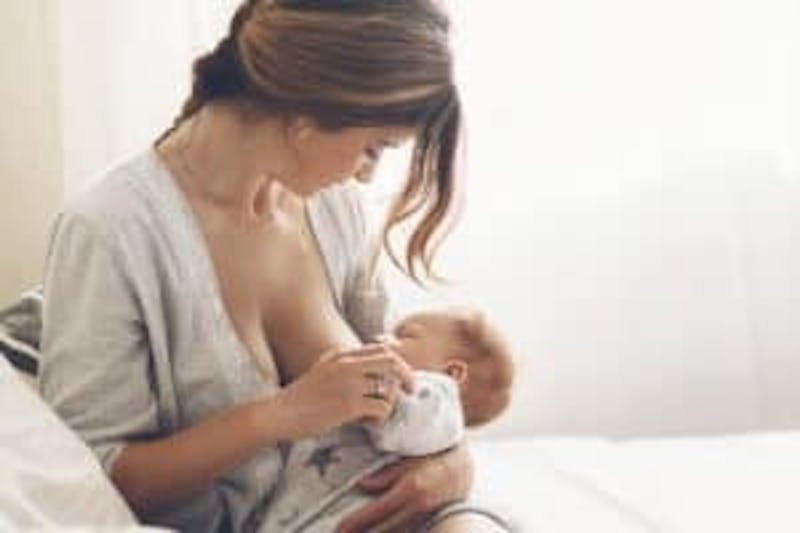 It Does Not Reduce Your Chances of Getting Pregnant
Research confirms that having breast implants does not impact fertility. You do not need to worry about breast augmentation surgery impairing your ability to become a mother. Plus, it can only help the baby conceiving process if you feel sexier.
It Will Not Harm the Baby
Similarly, the health of your baby is not affected by a breast augmentation. You can expect your baby to develop as normally as it would have without implants in your chest.
Most Have No Trouble Breastfeeding
The biggest worry you may have about breast implants is their potential impact on breastfeeding. Thankfully, most women who have breast implants experience no difficulty producing milk for their child. Because the implant is placed between the chest wall and the breast, it should only minimally interfere with the parts responsible for milk production like the breast ducts and mammary glands.
You may have heard that it is best to avoid periareolar breast augmentation (surgery that places the incision around the areola). However, even then, the risks of scar tissue blocking some milk ducts are low, and it does not appear to impede breastfeeding for most women.
Pregnancy Can Change Breast Shape
The breasts go through a series of changes before and after pregnancy. Breasts enlarge while producing milk but the volume eventually decreases — sometimes to a smaller size than before. Breasts often look deflated or saggy by the time nursing is complete.
From a safety perspective, breast implants are resilient and can withstand these changes. However, the breasts may look different after pregnancy, as they would for a woman without breast implants. Some women may no longer enjoy the size and shape of their breasts following these changes.
When It Makes Sense to Wait
With the understanding that you can safely schedule breast augmentation before becoming a mother, Dr. Wright Jones and Dr. Sabine Lovell do suggest postponing the surgery if you are imminently planning to become pregnant. The main reason is that your breasts need a few months to heal properly following augmentation surgery, and the changes that naturally occur to the breasts during pregnancy can make that more difficult.
Moreover, because the breasts will inevitably change shape after pregnancy, it makes more sense to make improvements after they have settled and you have an accurate picture of what they look like. For example, you may want to combine an augmentation with breast lift if the breasts have begun to sag.
Speak to the Breast Experts
If you are interested in enhancing your breasts, the good news is that you can still nurse your future children. Both Dr. Jones and Dr. Lovell are happy to answer any questions you may have about breast augmentation. To arrange a consultation at Muse Plastic Surgery, please call (404) 994-5937.