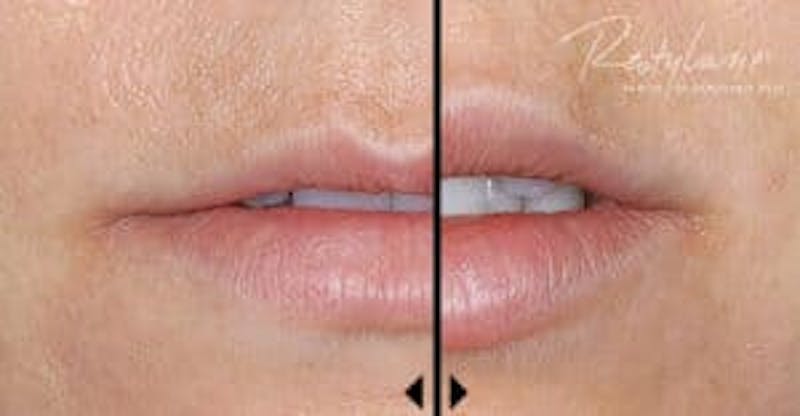 Restylane is one of the earliest FDA approved dermal fillers that has traditionally remained among the most dependable, safe and effective anti-aging injectable treatments for the face. For patients who want to avoid facial cosmetic surgery and yet achieve significant reduction in aging lines on the face may consider Restylane.
Restylane cosmetic filler comes in variants that are ideal for reduction of facial wrinkles as well as for treating sensitive or delicate areas of the skin such as the lips and under the eyes. The Restylane gel will fill the wrinkles and also moisturize and lubricate the sensitive skin to make it appear more supple and rejuvenated. The procedure involves no cuts, incisions or plastic surgery.
Restylane is regarded as one of the most versatile fillers, which can improve fine lines and moderate wrinkles, while also filling minor depressions and enhancing the lips in a subtle and natural looking way. Stellar, perceptive, and double board certified plastic surgeon Dr. Wright Jones provides Restylane treatment to patients in Atlanta, Buckhead, Stockbridge, Marietta, GA, and other cities and towns in the high flying state of Georgia.
HA-based Treatment
One of the reasons behind the time-tested safety record and effective results of the Restylane facial filler is that it is produced with biocompatible ingredients. Restylane contains hyaluronic acid (HA), which is a natural substance found in the human body. The function of HA is to provide support to the skin to hold itself tightly by stimulating the natural collagen.
Restylane injectable treatment is delivered directly into the deeper skin layers in the form a clear gel. The gel acts instantly to add volume and fullness to the specific areas of the skin that have experienced volume depletion due to aging and other factors. Plastic surgeon to the stars Dr. Jones recommends Restylane to appropriate candidates seeking non-surgical facial rejuvenation.
Areas of Treatment
Almost any facial site can be addressed with one of the variants of Restylane as long as the patient is declared an appropriate candidate for this filler. From fine lines and light wrinkles to folds and creases as well as lip augmentation and filling of under eye hollows can be performed with Restylane. It is commonly used to treat fine mouth lines and laugh lines.
Reduction of under eye sagging, augmentation of recessive chin, enhanced projection of cheekbones, and lip enhancement can be achieved with Restylane. The injectable treatment is popular as lip filler because it can delicately enhance the shape and definition of the lips.
Treatment of Under-Eye Hollows
Restylane dermal filler is one of the most effective facial cosmetic fillers to address under-eye hollows and dark circles. It is possible to mold this filler to the desired shape. The skin below the eyes is delicate, and if any bumps or lumps appear after the procedure, they can be adjusted more easily with Restylane. The viscosity of Restylane is just right to work on the sensitive under-eye skin.
Outstanding, innovative, and famous plastic surgeon Dr. Wright Jones of Muse Plastic Surgery receives patients from Atlanta, Buckhead, Stockbridge, Marietta, GA, and nearby areas for Restylane facial filler injection procedure.
See all plastic surgery procedures that Cosmetic Surgeon Dr. Wright Jones performs of the face, nose, body, and breast in and around Atlanta, Buckhead, Stockbridge, Marietta, GA and surrounding areas.