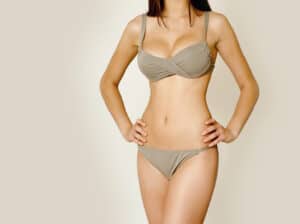 The innovative, nonsurgical CoolSculpting procedure may be an ideal solution for patients seeking fat removal in specific areas of the body. The treatment does not involve any significant downtime or associated risks which make is especially suitable for busy moms and working professionals.
In comparison to a plastic surgery procedure such as liposuction, CoolSculpting is much more cost-effective. The surgeon will inform the patient on various facets of the CoolSculpting procedure, such as its estimated costs, at the time of the pre-treatment appointment.
Muse Plastic Surgery, led by double board certified plastic surgeon Dr. Wright Jones provides CoolSculpting to patients in Atlanta, Buckhead, Stockbridge, Marietta, GA, and surrounding locations.
Cost Comparison with Surgery
Fat loss surgery such as liposuction is typically more expensive compared to CoolSculpting. This treatment is nonsurgical and does not involve intravenous sedation or general anesthesia which is usually necessary for surgical procedures.
Plastic surgery can be a complex and invasive procedure. This may warrant careful pre-operative preparation and post-op care and monitoring. The cost of the procedure can be significantly higher due to such expenses. On the other hand, a CoolSculpting session takes between 30 and 60 minutes and can be undertaken as an in-office treatment.
Fat reduction surgery may take place at a hospital or surgical center which can increase the overall costs of the procedure. But CoolSculpting does not involve the cost of a surgical venue, and can be performed at the provider's office.
Plastic surgeon to the stars Dr. Wright Jones will ensure that his patients receive personalized care and attention during every CoolSculpting treatment session for best results.
Factors Impacting CoolSculpting Costs
The average costs for CoolSculpting may differ between two practices and even between two patients at the same practice on the basis of various factors, such as:
Location of the Practice
The costs of cosmetic procedures are typically higher in main urban centers compared to small, interior towns. Several aspects such as the real estate costs, average costs of living in the area, and local taxation may affect the costs of products and services in a region, including the cost of cosmetic treatments such as CoolSculpting.
Extent of Treatment
The extent of the treatment will also lead to differences in the CoolSculpting costs between two patients. The treatment cost for larger body areas such as the buttocks, thighs, tummy, or back may be higher than the cost for the treatment of smaller sites such as the ankles, chin, knees, or cheeks. The overall treatment costs will also depend on the number of treatment sessions that a patient requires.
Average Cost
For patients who require CoolSculpting in multiple sites involving many treatment sessions, the total costs will be a factor of the number of treatment sites as well as the number of CoolSculpting sessions that they need.
Financing Your CoolSculpting Procedure
Most patients will be able to procure financing for the treatment through professional medical care firms. Alternatively, they may also consider other financing options such as private loans, bank loans, and credit cards.
Does Insurance offer Coverage for CoolSculpting?
Aesthetic procedures such as CoolSculpting are usually not eligible for insurance coverage. The patient can ask their treatment provider for discounts or understand if they offer any payment plans to offset the cost of their CoolSculpting treatment.
Famous plastic surgeon Dr. Wright Jones receives patients from Atlanta, Buckhead, Stockbridge, Marietta, GA, and nearby areas for CoolSculpting.
See all plastic surgery procedures that Cosmetic Plastic Surgeon Dr. Wright Jones performs of the face, nose, body, and breast in and around Atlanta, Buckhead, Stockbridge, Marietta, GA and surrounding areas.