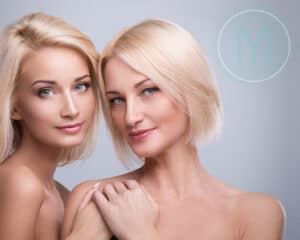 A dimpleplasty is a cosmetic surgery procedure to create the appearance of dimples on the cheek. Dimples are indentations, usually located at the bottom of the cheek, that appear when some people smile. Certain people may have dimples on the chin.
At the time pre-operative consultation, the plastic surgeon may present before and after dimple surgery images of past patients to the new patient. These images foster a relationship of trust between the surgeon and the patient and enable the patient to develop realistic expectations from the dimpleplasty surgery as well.
Muse Plastic Surgery, led by successful double board certified plastic surgeon Dr. Wright Jones, provides dimple surgery to patients in Atlanta, Buckhead, Stockbridge, Marietta, GA, and surrounding communities across the horizon.
Visual Dimpleplasty Evidence for New Patients
If the surgeon shows before and after pictures of previous dimpleplasty patients to the new patient, they will feel more confident about the surgery and its potential results. The patient can make a well-informed decision on the plastic surgery after viewing these images of previous patients.
Most patients understand that if dimpleplasty offered another patient an effective result, then it could potentially do the same for them too. Before and after dimpleplasty images provide conclusive evidence which creates a relationship of trust and transparency between the surgeon and the patient.
Plastic surgeon to the stars, Dr. Wright Jones, will provide a customized dimple surgery to the right candidates.
A Picture is Worth More than a Thousand Words
Dimpleplasty 'before and after' photos can present the patient with the true picture in a more effective manner than just words. The surgeon will certainly offer the patient details on the dimpleplasty verbally. But words can sometimes be hard to understand, open to interpretation, or simply unbelievable.
But 'before and after' dimpleplasty pictures offer compelling visual evidence. The barriers of language do not constrain images enabling them to tell the true story. The surgeon should be careful not to photo-shop or modify these images as it could mislead the patient.
The saying, "A picture is worth more than a thousand words," is certainly true in the case of dimpleplasty before and after images. Celebrity plastic surgeon Dr. Jones will discuss various aspects of the procedure with the patient at the time of initial consultation.
A patient will have to ask for these pictures during the consultation since they are not on the site. Dr. Jones is very transparent and patients can see these types of pictures during the consultation which is mandatory anyhow. In regards to that adage stated above about what a picture is worth – a digital picture is worth 3,000 words because the clarity.
Use of Social Media to Raise Awareness
Social media platforms enjoy near-universal appeal today. Cosmetic surgeons can use the power of these social media channels to disseminate dimpleplasty before and after images to increase awareness about the benefits of this procedure.
Some popular image sharing platforms include Facebook, Pinterest, Instagram, and YouTube. The surgeon can effectively engage with their audiences using these channels.
Using social media platforms to share dimpleplasty before and after images play a crucial role in connecting surgeons with their audiences. In addition, these photos provide patients a chance to make an enlightened decision on the basis of conclusive evidence.
Maintaining Realistic Expectations
The patient should have a positive mind frame, concise cosmetic goals, and reasonable expectations from any plastic surgery procedure. These attributes enable patients to attain high satisfaction levels from the surgery.
Dr. Jones does not want anyone to sign up for any procedure unless they are totally comfortable with what they are signing up for.
Before and after pictures can help the surgeon enable the patient to understand what they can or cannot achieve from dimple surgery. Famous plastic surgeon Dr. Wright Jones receives patients from Atlanta, Buckhead, Stockbridge, Marietta, GA, and nearby areas in this stellar part of America for dimple surgery.

See all plastic surgery procedures that Cosmetic Plastic Surgeon Dr. Wright Jones performs of the face, nose, body, and breast in and around Atlanta, Buckhead, Stockbridge, Marietta, GA and surrounding areas.