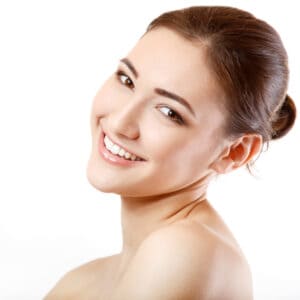 The condition of nipple inversion may exist from birth, happen during puberty, after pregnancy and breastfeeding, occur due to aging or weight loss, or happen due to trauma or an inflammatory condition of the breast. In the US, at least 2 to 3 percent of women have at least one inverted nipple.
Muse Plastic Surgery, led by double board certified plastic surgeon Dr. Wright Jones, provides corrective treatment for inverted nipples to patients in Atlanta, Buckhead, Stockbridge, Marietta, GA, and surrounding locations across the landscape.
What is an Inverted Nipple?
An inverted nipple can appear flatter, usually with a crease in the center, or it might project into the breast rather than out. An inverted nipple can be physically uncomfortable or cause emotional distress, especially if the other nipple is normal or the projection is too significant and cannot be hidden through appropriate clothing. Swimwear and athletic clothing may not be comfortable for many women with this condition.
Certain women have an inverted nipple that appears flat on the breast mound while other may have an almost entirely inverted nipple that projects inwards into the breast. Factors such as gentle pressure around the base of the nipple, nipple stimulation, changes in temperature, and sexual and physical stimulation can impact inverted nipples.
A number of women suffer through a major part of their life due to problems associated with inverted nipple conditions as it is often misunderstood. Plastic surgeon to the stars Dr. Wright Jones provides corrective procedures for inverted nipples to suitable candidates.
How Women Benefit from Inverted Nipple Correction
Inverted nipple surgery can provide the following advantages:
Helps in achieving normal nipple projection
Prevents a nipple from projecting into the breast
Addresses symmetry and contours
Removes embarrassment
Allows women to wear clothing of their choice
Assists in achieving a more healthy and normal appearance
Good Candidates for Inverted Nipple Correction
Do you have any of the following problems?
Nipple(s) that sink into the areola of the breasts
Irritation in the skin due to inverted nipples
Lack of stimulation in either or both nipples
One nipple appears very different from the other one
Nipples continue to remain pointed or flat despite stimulation
Patient feels that the nipples do not seem normal
Breast appearance causes embarrassment
Asymmetry and nipple contour creates challenges in clothes selection
In any of the cases mentioned above, the patient could benefit from a nipple inversion surgery. Ideal candidates should be in good general health with no history of untreated breast-related illnesses or health conditions that can cause an impediment to normal healing.
Surgical nipple inversion correction is effective, safe, and involves a quick recovery process. The surgeon places tiny incisions and uses this incision to release the binding tissue. They may use sutures to hold the released nipple into the proper position. A majority of women can breastfeed after the procedure (if the nipple inversion is mild). They are also able to resume work the following day.
Celebrity plastic surgeon Dr. Wright Jones receives patients from Atlanta, Buckhead, Stockbridge, Marietta, GA, and other suburbs and neighborhoods in this glorious region of The Peach State for inverted nipple treatment.
See all plastic surgery procedures that Cosmetic Surgeon Dr. Wright Jones performs of the face, nose, body, and breast in and around Atlanta, Buckhead, Stockbridge, Marietta, GA and surrounding areas.