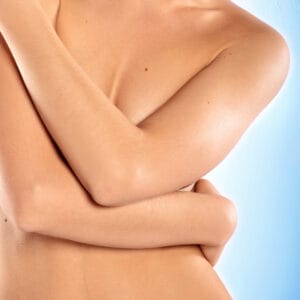 Breast reconstruction cosmetic surgery is a major procedure that may involve multiple treatments over the course of several months. The surgery is usually complex and should only be performed by an experienced breast surgeon.
Dr. Wright Jones is a double board certified plastic surgeon providing breast reconstruction and various other procedures to patients in Atlanta, Buckhead, Stockbridge, Marietta, GA, and surrounding communities.
Candidacy
Breast reconstruction plastic surgery is usually carried out for patients who have had one or both breasts removed through mastectomy after breast cancer. The candidate may choose to have reconstruction process started at the same time as mastectomy or after the healing is complete. Breast reconstruction is a complex surgery often requiring multiple procedures. Therefore, the candidate should be physically and emotionally fit to undergo it.
Types of Breast Reconstruction
Breast reconstruction can be performed using breast implant surgery or flap reconstruction method. Each option has its own pros and cons. Implant surgery is usually more appealing because it involves relatively lesser surgery only in the breast area.
Flap reconstruction, on the other hand, involves two surgical sites, with more scarring and a higher risk of infection. However, the results with flap reconstruction may be more natural looking. Astute cosmetic surgeon Dr. Jones receives patients from Atlanta, Buckhead, Stockbridge, Marietta, GA, and nearby areas for breast reconstruction surgery.
Breast Implant Reconstruction
This procedure will take place over multiple stages. In the first stage, a balloon expander will be placed under the skin and chest muscle to stretch the area. Liquid will be gradually added to the expander to stretch the skin enough to fit the required implant size.
Surgery will be performed using silicone or saline implants once the skin has been adequately stretched. In a few cases, permanent skin expanders may be used, which serve as an effective breast implant. This will eliminate the need for a second surgery to place the implant.
Flap Reconstruction
In this method, the surgeon will take tissue from one area of the body, such as the buttocks, abdomen or back, and transfer it to the chest. Blood vessels in the transplanted tissue will be re-attached to the new ones in the chest area.
This new tissue will serve as the breast mound. In some cases, an implant may also be placed. Flap reconstruction will cause more scarring because of the additional incisions, and will also require more time for recovery.
Recovery
Breast reconstruction recovery process will have both physical and emotional aspects. The recovery period will be determined according to the type of reconstruction technique used. Flap reconstruction will involve a longer recovery period than implant reconstruction because two different sites in the body must heal.
Full recovery is usually reached in about six weeks after the surgery. However, the recovery period may be longer if the patient has some complications, or an additional procedure such as nipple reconstruction is involved. The patient should be prepared to diligently follow the surgeon's instructions to have a safe and smooth recovery after breast reconstruction surgery.
See all plastic surgery procedures that Cosmetic Surgeon Dr. Wright Jones performs of the face, nose, body, and breast in and around Atlanta, Buckhead, Stockbridge, Marietta, GA and surrounding areas.