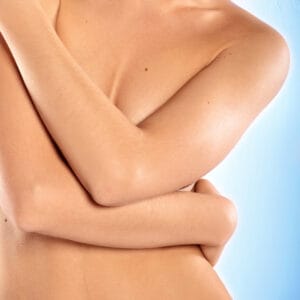 Breast reconstruction cosmetic surgery is a complex procedure, and like any other surgery, it will involve certain risks. During the initial consultation, the surgeon will discuss the potential risks and complications of the procedure to help the patient make an informed decision. Double board certified plastic surgeon Dr. Wright Jones provides breast reconstruction to patients in Atlanta, Buckhead, Stockbridge, Marietta, GA, and surrounding communities.
Short-Term Risks
Adverse Reaction to Anesthesia
Breast reconstruction plastic surgery is usually performed with the patient under general anesthesia. Patients with pre-existing medical conditions related to the heart, nervous system or circulation are at an increased risk of complications.
The patient should fully disclose her medical history to the surgeon so that appropriate decisions can be made. Common side effects once the patient is brought out of anesthesia include nausea, dizziness, and blurred vision.
Infection
The risk of infection will exist in any type of surgery, including breast reconstruction. Antibiotic medications may be prescribed to prevent or treat infections. In case of a persistent infection after the surgery, the patient should promptly consult with the surgeon.
Common signs of infection include a change of color or excessive redness around the breast incision, fluid or pus discharge from the surgical site, or high fever. Maintain a sterile environment will minimize the risk of infection.
Bleeding
If the patient has a history of bleeding, or she is on blood thinners or other such medications that may affect clotting, it may increase the risk of bleeding during or after the breast reconstruction surgery.
The surgeon will ask the patient to refrain from using certain medications for at least two weeks prior to the surgery to minimize the risk. In case of excessive bleeding during recovery, the patient should immediately contact the surgeon.
Long-Term Risks
Implant complications following breast reconstruction with breast implants may occur at any stage due to capsular contracture, or deflation, leakage or damage to the implant. Flap complications may include delayed healing and blood clotting. Patients should carefully weigh their options and choose a surgical technique in consultation with the breast surgeon.
Certain vascular complications may also occur in the long run in a few cases. These include:
Poor blood flow to the reconstructed breast
Relocated tissue failure, causing dead tissue
Reduced abdominal strength
Weakened back, arm, or shoulder
Experienced cosmetic surgeon Dr. Jones receives patients from Atlanta, Buckhead, Stockbridge, Marietta, GA, and nearby areas for breast reconstruction and various other surgical and non-surgical procedures.
Scarring
The extent of scarring will vary according to the type of breast reconstruction technique used. In case of flap reconstruction, scarring will be higher than implant reconstruction because two different incision sites are involved.
In addition to the breasts and nipples, scars in case of flap reconstruction may occur in donor sites such as the abdomen, navel, buttocks, back or another area. Surgical scars will gradually fade away, but will not entirely disappear. Most patients will find that breast reconstruction benefits outweigh the limitations such as scarring.
See all plastic surgery procedures that Cosmetic Surgeon Dr. Wright Jones performs of the face, nose, body, and breast in and around Atlanta, Buckhead, Stockbridge, Marietta, GA and surrounding areas.