The Georgia Peach Lift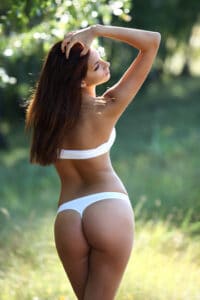 A Brazilian butt lift plastic surgery (Georgia Peach lift) is an ideal procedure for people who are unhappy with the appearance of the shape or size of their buttocks or due to the presence of loose skin in this area.
This procedure is also suitable for people who have lost a significant amount of weight and feel that their rear has a saggy appearance.
The successful Muse Plastic Surgery, led by double board certified plastic surgeon Dr. Wright Jones, provides Georgia Peach lift to patients in Atlanta, Buckhead, Stockbridge, Marietta, GA, and other neighborhoods and suburbs in this marvelous region of America.
Brazilian Butt Lift with Liposuction
The Georgia Peach lift is a very popular procedure as it involves only small incisions to create a perkier butt. The surgeon will shape the patient's buttocks through liposuction in a Brazilian butt lift procedure.
The surgeon will remove the stubborn, undesirable fat deposits from other areas such as the thighs or abdomen, and purify them. They will then inject this fat into the patient's butt.
Adding fat to the rear can give the butt a lifted appearance. However, it cannot treat loose skin. People who have undergone significant weight loss may need a traditional butt lift or lower body lift. Subsequently, the patient can decide on undergoing a fat transfer.
Plastic surgeon to the stars Dr. Wright Jones is a dedicated provider of Georgia Peach lift surgery to suitable candidates.
Brazilian Butt Lift – Procedure
The Georgia Peach lift surgery involves elimination of fat from body areas such as back, hips, thighs, and abdomen through liposuction. During this procedure, the surgeon will place small incisions in the location with excess fat and insert a tiny tube.
Subsequently, the surgeon will use manual motion, vibration, bursts of air, lasers, or ultrasonic ways to dissolve the fat pockets before gently aspirating these. They will usually perform liposuction under local anesthesia. But in case the patient is anxious or significant fat removal is involved, they may recommend general anesthesia or sedation.
A centrifuge purifies the fat cells after removal. The plastic surgeon will only inject the highest quality tissue into the butt using tiny tubes (cannulas) at various depths to produce results that look and feel natural.
The surgeon's specific techniques and the patient's expectations will determine the amount, depth, and number of injections. A large number of tiny injections typically create more natural-looking results.
In this phase of the surgical process, the patient will usually be under local anesthesia. But the surgeon may sometimes use general anesthesia or sedation depending on the circumstances.
After this procedure, the butt appears fuller and rounder. The use of the patient's own tissue instead of implants or synthetic fillers is the reason for the natural appearance of the buttock. The time taken for this procedure is typically around two hours.
Brazilian Butt Lift – Cosmetic Advantages
A natural appearance with a lower risk of rejection in comparison to fillers and implants.
Removal of excess fat deposits from other body areas to further enhance the body shape.
In general, the Georgia Peach lift is less invasive in comparison to traditional butt lift surgery or butt implants.
Recovery
After a Brazilian butt lift surgery, the tissue and skin in this region will need to heal properly to produce optimal results. The patient will require follow-up appointments with the surgeon. They will also need to follow the recovery guidelines and allow themselves to get plenty of rest to be able to enjoy their new, shapely backside.
Celebrity plastic surgeon Dr. Wright Jones receives patients from Atlanta, Buckhead, Stockbridge, Marietta, GA, and nearby areas across the landscape for Georgia Peach lift.
See all plastic surgery procedures that Cosmetic Plastic Surgeon Dr. Wright Jones performs of the face, nose, body, and breast in and around Atlanta, Buckhead, Stockbridge, Marietta, GA and surrounding areas.