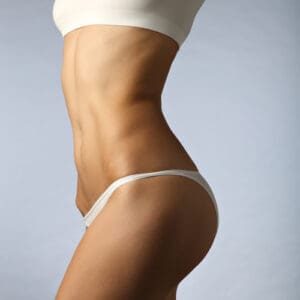 One of the most innovative liposuction cosmetic surgery techniques to improve body contours is Awake liposuction. This technique is designed to achieve all the fat reduction benefits of traditional liposuction in a less invasive manner. Awake liposuction, also known as tumescent liposuction, avoids the need for general anesthesia.
Risks involved in Awake liposuction are lower compared to traditional liposuction, and most patients can enjoy a quicker and more comfortable post-op recovery. Double board certified plastic surgeon Dr. Wright Jones of Muse Plastic Surgery provides Awake liposuction to patients in Atlanta, Buckhead, Stockbridge, Marietta, GA, and surrounding locations.
Liposuction with a Local Anesthetic
Plastic surgeon to the stars, Dr. Jones, recommends Awake liposuction to suitable candidates for several reasons, not the least of which is that the procedure involves only the use of a local anesthetic. A significant amount of a diluted solution of local anesthetic and other medications is delivered into the targeted fat tissue layers before the excess fat is removed.
This causes the tissue to become firm and swollen, allowing for superior control. The trauma involved in fat removal is mitigated, and general anesthesia is avoided. Patients do not have to bear the risks, discomfort and costs involved in general anesthesia. Lidocaine local anesthetic is generally applied to perform Awake liposuction plastic surgery procedure.
Patient Safety
Notable and celebrity plastic surgeon Dr. Jones recommends Awake liposuction also because the procedure can be performed on an outpatient basis, and involves significantly reduced risk. Researchers consider this fat reduction technique to be the safest form of liposuction. Due to the use of large amounts of local anesthetic, the patient experiences reduced pain. Furthermore, the risk of bleeding, swelling and skin irregularities is also reduced.
The patient remains awake during the surgery, which gives it the name 'Awake' liposuction. This also enables the surgeon to request the patient to change positions during the procedure, leading to enhanced sculpting of the affected sites. The safety record of tumescent liposuction is very high as the surgeon can remove both superficial and deep fatty layers with reduced risk of complications. Recovery is faster with this technique compared to traditional liposuction.
Awake Lipo Procedure Details
Fabulous and famous plastic surgeon Dr. Jones will begin the procedure by injecting a local anesthetic solution along with medications into the fatty tissue. Once the area becomes firm and swollen, he will create small incisions in discreet locations to extract unwanted fat in an accurate and uniform way.
A thin cannula is inserted through the small incisions to dislodge the stubborn fat cells, which are then suctioned out through a syringe attached to the other end of the cannula. Following the desired amount of fat removal from targeted sites, the surgeon will close the incisions with fine sutures.
The wounds are covered with bandages and elastic support garments are placed. The patient can leave for home with a responsible driver after some period of observation. Amazing and reliable cosmetic surgeon Dr. Jones receives patients from Atlanta, Buckhead, Stockbridge, Marietta, GA, and other neighborhoods and suburbs in this part of the southeast for Awake liposuction and various other cosmetic procedures.
See all plastic surgery procedures that Cosmetic Surgeon Dr. Wright Jones performs of the face, nose, body, and breast in and around Atlanta, Buckhead, Stockbridge, Marietta, GA and surrounding areas.