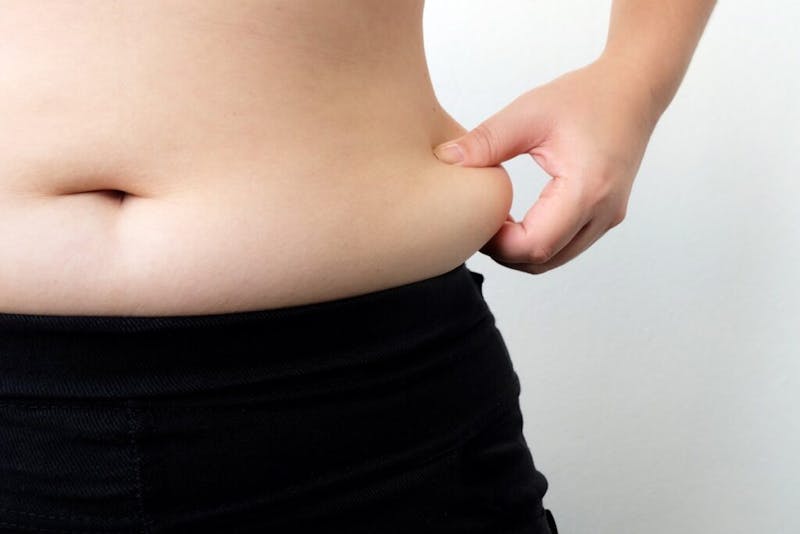 Stomach
The stomach has more fat cells than other regions of the body, making it especially vulnerable to weight gain. Moreover, these fat cells do not break down as easily as other types of fat cells. That is why fat appears to linger longer around the abdomen even when positive results can be seen in other sections of the body.
Diet plays a primary role in fat accumulation around the midsection. Foods with excess sugar, fat and carbohydrates directly contribute to an increase in size around the stomach. Excess fat may indicate that the body has insulin resistance.
Thighs
Women who develop thick thighs may have estrogen to blame. Once puberty hits, the surge in estrogen production leads to an increase in fat cells around the thighs and buttocks. Unfortunately, by the time estrogen production dips (around menopause), the weight does not fall off as easily, since the body's natural metabolism has slowed significantly.
Arms
Fat is also likely to amass on the arms, particularly the upper arms. Women are again disproportionately affected by upper arm fat due to a lack of testosterone. Testosterone can prod fat cells to release excess fat into the blood stream, but women do not benefit from this because of their low levels of this hormone. By that token, men who have lower testosterone levels are also prone to excess arm fat. If low testosterone is the main problem causing arm fat, diet and exercise can be less successful at eliminating this fat.
Cosmetic Solutions
If you have had trouble losing weight around your abdomen, thighs, upper arms or other problem areas, plastic surgery may be the most realistic way to overcome certain biological limitations. Dr. Jones and Dr. Lovell agree that liposuction is the most effective way to address unwanted pockets fat. This popular procedure suctions stubborn fat cells for permanent results. To meet with Dr. Jones or Dr. Lovell to discuss these fat-targeting procedures, please schedule a consultation by calling (404) 882-9948 today.